Former Canadian Green Party leader and regular Policy contributor Elizabeth May is filing all week from COP25 in Madrid. This is her third dispatch.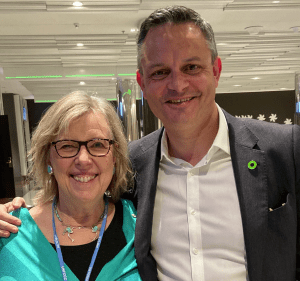 Elizabeth May with New Zealand Climate Minister and Co-Facilitator of Article 6 Negotiations at COP25 James Shaw.
Elizabeth May
December 11, 2019
(MADRID) – Climate activist and freshly-named TIME Person of the Year Greta Thunberg addressed the largest plenary hall at COP25 today. Of course, it was packed. Decrying the lack of progress on fighting climate change, she told delegates, "This is not leading, this is misleading." She assessed the COP as an opportunity "to negotiate loopholes and avoid raising the ambition."
The cheers for her talk reflected a profound disconnect as negotiations proceed at a snail's pace on technical issues — that could well lead to loopholes. The climate emergency, the real impacts all around the world; these are the stuff of discussion in the many presentations and side events. The nations gathered here continue to act as though we have all the time in the world when, in fact, we are running out of time for the world.
I had hoped that Canada might surprise by coming to COP with a new target to replace the old Harper target under which we still operate. The Harper promise, made in Copenhagen in 2009, is to reduce carbon emissions 17 per cent from 2005 levels by 2020. In 2015 it was pushed back to 30 per cent by 2030. It falls due next year. It has not a hope of being met. As former Commissioner for Environment and Sustainable Development Julie Gelfand (within the office of the Auditor General) reported in her audit, no one in government is even talking about the 2020 target anymore. It was replaced with the 2030 target. And now, potentially with a 2050 target.
Meanwhile, the only target that matters is the one set by science: We must reduce, globally, emissions of carbon dioxide by 45 percent below 2010 levels by 2030, or we will blow past the Paris goal of holding to 1.5 degrees C global average temperature increase. In other words, we must end our dependence on fossil fuels. Rapidly.
Greta went on to say "…there is hope. I have seen it. But it does not come from governments or corporations. It comes from the people."
I also find hope from school strikers, from Greta's leadership, from the marchers and from indigenous leaders. But my greatest source of hope is from the growing strength of the Green political movement. This morning, I attended a breakfast strategy meeting with elected Green politicians from around the world. At COP25, five countries are represented by ministers for environment and climate who are members of the Green Party. Green ministers from New Zealand, Sweden, Finland, Belgium and Luxembourg are in positions to negotiate and press for real action. As well, elected Green parliamentarians from Germany, the Netherlands, the European parliament, Spain, France, Brazil and Canada as well as those still trying to get elected from Lebanon, Hungary, Poland and Estonia contributed what we see from the vantage points of our countries. One of the most impressive young women I have ever met, Stav Shaffir, co-leader of Israel's Democratic Union and new co-leader of the Israeli Greens, met with me Sunday night, as she had to leave COP25 early for the negotiations over a Knesset coalition (that process had again failed by Wednesday, and Israelis are heading to the polls again).
These key, strategic, political Greens know the inside workings of so many governments. They give me hope. COP26 will be in Glasgow in November. It will require – under terms of the Paris Agreement – that every nation tables new targets, planned to be in place by March 2020, but realistically no later than the COP itself.
We are all exasperated by the slow pace. And I can hardly bear the thought of one more COP. But we have one last chance — one last open window. This one, COP25, must, at least achieve enough to avoid going backward. And then COP26 must go forward to get targets consistent with 1.5 before our window closes.
Elizabeth May is the former leader of the Green Party of Canada.
Click here to read the article as it was originally published in Policy Magazine.