Introduction
Elizabeth has championed calls from those in Saanich–Gulf Islands who are fed up with the abuse of aquatic ecosystems and coastal communities by freighter anchorages. Under common law, the vessels at sea must be given refuge and safe anchorages at times of storms. These anchorages are routine, daily, and multiplying. These vessels are public safety hazards that treat our seas and waterways like free parking lots.
About freighter anchorages
A freighter anchorage is defined as the temporary anchoring of a vessel (ex. bulk carrier, cargo ship, cruise ship) in a "suitable area". Freighters are anchored when there are inefficiencies in supply chain management across the country, delaying ship unloading and reloading. The Canadian Shipping Act, 2001 and its regulations govern freighter anchorages and Transport Canada is responsible for enforcement.
It is reported that there are over 30 anchorages throughout the Southern Gulf Islands. Transport Canada found that the Port of Vancouver has seen a 4% increase in anchorage use every year since 2011. On average, vessels are anchored for nearly 9 full days, although this can fluctuate to as low as several hours and as much as several weeks. The Canada Shipping Act allows for the prohibition of freighter anchorages in certain areas when it is considered to be in the national interest.
The map below shows the estimated locations of anchorages in 2020. Please keep in mind that this is not up to date, however it is a useful tool for a bird-eye view of the situation: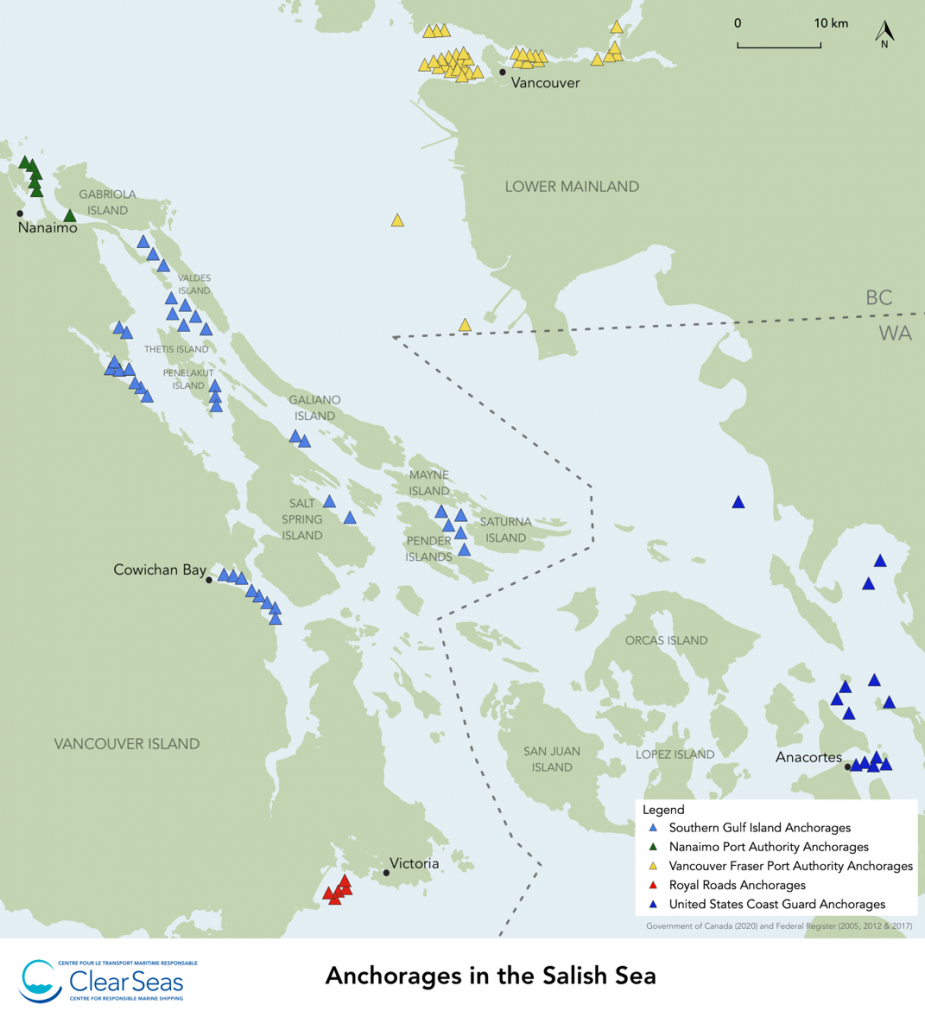 More recent notices of freighter anchorages can be found here.
The government has recently approved the Roberts Bank Terminal 2 Project, which will see the construction of a new marine container terminal in Delta, BC. With current supply chain inefficiencies and a lack of protections for aquatic ecosystems around Vancouver Island, the new terminal will likely lead to the presence of even more freighter anchorages in the area. (The approximate location of this terminal is the thin stretch of land directly to the right of the yellow arrow that is furthest down in the photo). Elizabeth has been vocal in opposition to Roberts Bank Terminal 2.
Impacts of anchorages
There are a vast range of negative impacts on human health and aquatic ecosystems and species.
Those within coastal communities are subjected to constant noise and light pollution from the ships, deteriorating air quality, and contaminated local water sources. There are also significant risks of the ship running aground during inclement weather, collisions, particularly in more narrow waterways, and resulting oil spills.
Marine life has been devastated by the presence of these anchorages. The Southern Gulf Islands and the Salish Sea are home to a rich range of species, like the Southern Resident killer whale. The air pollution coming from the carriers leads to increased ocean acidification. The dragging of the anchor and the connected chain tears through seabeds and underwater habitats, violently killing aquatic animals and ruining their habitats in the process. Ships also create intense underwater noise and light, disrupting animal communication and causing these creatures immense stress.
Legislation and ongoing actions
Elizabeth has condemned the presence of freighter anchorages in speeches in the House of Commons and to federal cabinet on many occasions. In 2022, she demanded that the government address delays at the Port of Vancouver and called for the government to improve grain export efficiency to address supply chain inefficiencies leading to anchorages. Elizabeth summarised this "everyone loses" situation with the following remark:
"For my constituents in Saanich—Gulf Islands, the inefficiencies in delivering grain to the Port of Vancouver are leading to anchorages of basically free parking in my riding while the freighters that come to pick up the grain are cooling their heels waiting because of the inefficiencies created by the loss of the wheat board, which is hurting farmers, shippers and those who need the grain delivered."
There have been several legislative attempts to address the anchoring of large vessels off Vancouver Island and BC's mainland. In 1974, the BC provincial government established the Islands Trust Act to 'preserve and protect' the Gulf Islands. There is no outright ban on freighter anchorages, however, and many freighters choose to anchor in shallow waters (depths under 50 m), threatening shallow biodiverse coastal habitats that comprise just 5% of BC's ocean waters.
Profit-focused port authorities and supply chain inefficiencies that lead to anchorages have been addressed in other jurisdictions. The former Green Party Member of Parliament for Nanaimo-Ladysmith, Paul Manly, stated in 2020 that Rotterdam, the biggest port in Europe, does not have an anchorage problem because they have adjusting time systems. Canada must restrict ship arrival times and address inefficiencies in loading and unloading to ensure freighters are not parked for excessively long periods of time. This is needed to ensure there are no major disruptions to imports and exports as anchorages are eliminated from our waters.
MP Alistair McGregor introduced Bill C-250 in October 2020 to prohibit freighter anchorages around the Southern Gulf Islands and the east coast of Vancouver Island, however this did not receive consent to proceed.
Bruce McConchie, a constituent of Saanich–Gulf Islands, appeared in front of the Standing Committee on Transport, Infrastructure and Communities in October 2023 representing the South Coast Ship Watch Alliance. This group is a coalition of community organisations around the Southern Gulf Islands that are calling for an end to freighter anchorages. Watch Elizabeth asking Bruce about these anchorages in committee here.
Next Steps
We encourage you to reach out to, and get involved with, the South Coast Ship Watch Alliance, Gabriolans Against Freighter Anchorages (GAFA), and other advocacy groups leading the charge to eliminate freighter anchorages from our BC waters. Elizabeth will continue to raise this issue to the top of the government's agenda and work with fellow parliamentarians to protect the Southern Gulf Islands aquatic ecosystems.
You are also invited to submit a paper or electronic petition, which Elizabeth would be happy to present on your behalf in the House of Commons. Please read the information at this link to determine the process for petitioning and do not hesitate to reach out to our office for support.
Your engagement on this crucial issue is very appreciated.