Former Canadian Green Party leader and regular Policy contributor Elizabeth May is filing all week from COP25 in Madrid. This is her fourth dispatch.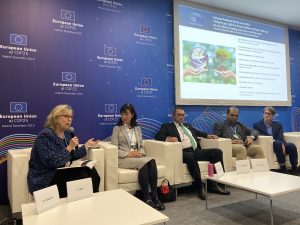 Elizabeth May participating in a European Parliament side event at COP25 titled Closing the Gap — Efforts to increase ambition in all Parties NDCs and the role of forests in coming closer to the overall Paris target.
Elizabeth May
December 12, 2019
Looking at the calendar, yes, COP is ending Friday. But it sure doesn't feel like it can.
This is my tenth COP, having been at nearly every one of them since 2005, including COP11 when Canada hosted. This one has been, by far, the most opaque. Typically, I attach myself like a lamprey to a key negotiating group, dive in, help with the occasional arm twisting in the corridors, and track key text.
This is the one and only COP within which there are no negotiations happening in places and spaces I can access. Usually, having a "party" badge — bright pink signifying being on a national delegation — gets you into all rooms. That's why, when Harper was Prime Minister and opposition MPs were not allowed on the Canadian delegation, as a Canadian Member of Parliament I attended as a member of the national delegations of other countries. In Durban, I was a delegate from Papua New Guinea. In Warsaw, I worked on the Afghan delegation.
Ever since the Harper defeat in 2015, I have been on the Canadian government delegation. This returns to situation normal for Canada. Other than in the Harper years, opposition MPs and NGOs have always had seats with our national team. As a delegate without a negotiation to access, I accepted more speaking invitations at this COP. Today, I spoke on two panels.
At this COP, there are a few factors at play that make it unique. Firstly, there is (by design or accident of text and bureaucracy?) a very thin agenda. The "must do" items have nothing to do with the massive demonstrations calling for action. We are in a climate emergency but here, at the centre of global action to save the world as we know it, the agenda is mind-numbingly technical. It is all about ensuring that a few stray bits of text and all of Article 6 from the Paris Agreement are sorted for a shared understanding of implementation.
Secondly, the negotiating process has been unusual. It may prove to have been a useful innovation, but it kept the process out of the large conference rooms where text is typically hammered out — line by line. The article 6 negotiations have been deftly managed by two key ministers — my friend and Green New Zealand Minister for Climate James Shaw and South Africa's Barbara Creecy. They decided that, rather than enter into a room of ministers, stating and re-stating their national positions and red lines, they would consult each group or region one at a time. Then they identified the key issues and the nation or nations that had the strongest opposing positions on key sticking points of article 6. They then paired them up to seek compromise. This has been going on for three days now.
Article 6 is the part of the Paris Agreement that says countries can use international carbon trading as a way to help meet their own emissions targets. Key principles have to be that overall emission reductions are real. Sticking points have included the developing countries hoping for a portion of every trade to be essentially tithed, to go to the under-funded Global Adaptation Fund. As well, there are very critical issues of whether trading credits from the previous regime (Clean Development Mechanism under Kyoto) can be incorporated into the new Paris trading regime. The argument against inclusion of Kyoto credits is strong. They are essentially junk credits, contaminated by implementation that accepted trades that turned out to be pretty phony. For example, if a developing country was planning to build a wind farm anyway, should a wealthy country get credit for it? On the other hand, there are some good projects that could help industrialized countries reduce emissions. Another technical area of disagreement is the obvious point that both countries — the buyer and the seller — cannot take credit for the same reduction. This is the double-counting issue.
These and other issues appear to have been making progress, but as of late Thursday night, there is still no text to review. Not surprising, I learned that the draft decisions on article 6 were handed over from the co-facilitators to the presidency at midnight. Staff that had been working with the co-facilitators stayed on to help with drafting. They worked through the night.
All of this, including the important decision of the COP, giving direction to countries as to how quickly targets must be replaced, will be shared as draft text for final negotiation sometime tomorrow. Friday the 13th. What could go wrong?
Elizabeth May is the former leader of the Green Party of Canada.
Click here to read the article as it was originally published in Policy Magazine.